Rook: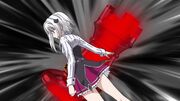 Rooks (戦車ルーク, Rūku) are worth 5 Pawns. Rooks gain superhuman strength, leading to high offense and defense. However, they are not very quick, and can get beaten easily by a high-speed opponent. It was mentioned in Volume 2 and shown by Rias in Volume 4 that the King can perform castling with a Rook piece.
Ad blocker interference detected!
Wikia is a free-to-use site that makes money from advertising. We have a modified experience for viewers using ad blockers

Wikia is not accessible if you've made further modifications. Remove the custom ad blocker rule(s) and the page will load as expected.